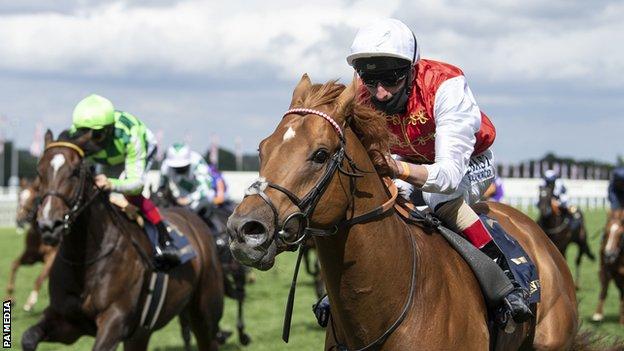 Golden Horde held off Kimari and Frankie Dettori to win the Commonwealth Cup on day four of Royal Ascot.
The 5-1 winner, ridden by Adam Kirby and trained by Clive Cox, had enjoyed a successful 2019 campaign as a two-year-old and showed he had progressed well.
He went to the fore from the start of the six-furlong feature race and looked strong after that.
American-trained Kimari moved up to challenge but Golden Horde had more left and won by a length and a half.
Earlier, Dettori had claimed his 70th Royal Ascot victory when Fanny Logan came from last to first for a decisive victory in the Hardwicke Stakes.
And Hollie Doyle earned her first Royal meeting victory when the 33-1 chance Scarlet Dragon took the Duke of Edinburgh Stakes, the final race of the day.
Doyle already holds the record for number of winners ridden in a calendar year by a female and joins Gay Kelleway and Hayley Turner on the Ascot roll of honour.
The Commonwealth Cup victory was an eighth Royal Ascot success for Cox, with Kirby having ridden six of those winners.
Cox said: "I'm very proud of him. He's a lovely, big, strong horse.
"To win a Group One first time out with any horse is very special. A Commonwealth Cup means an awful lot, so hopefully he can carry it on.
"He's really grown into his frame now. Last year he was very good and he's improved again. Adam knows him well enough now, one quality he has is a great cruising speed.
"The July Cup looks to be the next obvious step if he comes out of this well."